It is important to remember that every drug available in pharmacies has been evaluated in clinical trials.
Non-alcoholic steatosis and liver fibrosis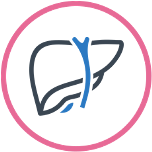 Until recently, fatty liver disease was associated only with people addicted to alcohol or abusing strong drinks. The development of medicine and new diagnostic methods have revealed that people who do not drink alcohol are also exposed to fatty liver. Lifestyle impact on liver health - overweight and obesity can contribute to the development of fatty liver, as well as lack of physical activity and taking certain medications (including sedatives, painkillers and hormonal drugs). If you are familiar with this topic, contact us. We will contact you when we can offer you participation in this study. We hope,
that soon!
Check what tests we are currently conducting in our facility.
if you are interested participation in a clinical trial - submit your form to recruiting department