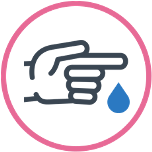 It is important to remember that every drug available in pharmacies has been evaluated in clinical trials.
Free consultation - Dni otwarte
Chcesz skonsultować swój stan zdrowia oraz bezpłatnie zasięgnąć opinii lekarza specjalisty?
W ośrodku Centrum Badań Klinicznych PI-House lekarze specjaliści z obszaru diabetologii prowadzą bezpłatne konsultację dla pacjentów chorujących na cukrzycę, zainteresowanych nowymi programami terapeutycznymi.
Każda osoba może się z nami skontaktować wysyłając do nas swoje zgłoszenie on-line.
Zgłoszenie
Rozpocznij swoje zgłoszenie wysyłając do nas uzupełnioną ankietę z pytaniami, która znajduje się poniżej. Skontaktujemy się z Tobą i wspólnie omówimy informacje udzielone w ankiecie.
Rozmowa z lekarzem
Następnym krokiem będzie rozmowa z lekarzem prowadzącym. Na wizycie osobistej, w ramach bezpłatnej konsultacji, lekarz specjalista z obszaru diabetologii oceni Twój stan zdrowia, przeprowadzi rozszerzony wywiad medyczny dotyczący Twojej choroby oraz omówi bieżące wyniki.
Decyzja
Zanim zdecydujesz się na bezpłatne leczenie w ramach programu klinicznego, lekarz prowadzący konsultację skrupulatnie i dokładnie przedstawi Ci szczegóły badania.
Cukrzyca, jest choroba metaboliczną, która objawia się nieprawidłowym stężeniem glukozy we krwi pacjenta. W chorobie trzustka nie produkuje wystarczającej ilości insuliny lub produkowana insulina nie jest prawidłowo wykorzystywana przez komórki ciała. Do wystąpienia cukrzycy przyczyniają się zarówno predyspozycje genetyczne, jak i czynniki środowiskowe. W rozwoju niektórych typów cukrzycy kluczową rolę odgrywają złe nawyki żywieniowe. Objawy choroby zależą od stopnia uszkodzenia komórek trzustkowych lub tempa rozwoju oporności organizmu na insulinę. Zależą także od typu cukrzycy. Niekontrolowana prowadzi do wielu groźnych dla zdrowia i życia powikłań. Leczenie cukrzycy to nie tylko normowanie poziomu cukru we krwi, ale również zapobieganie powikłaniom.
Check what tests we are currently conducting in our facility.
if you are interested participation in a clinical trial - submit your form to recruiting department