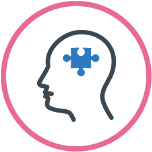 Clinical trials Zaburzenia Osobowości Typu Borderline
It is important to remember that every drug available in pharmacies has been evaluated in clinical trials.
Zgłoszenie
Rozpocznij swoje zgłoszenie wysyłając do nas uzupełnioną ankietę z pytaniami, która znajduje się poniżej. Skontaktujemy się z Tobą i wspólnie omówimy informacje udzielone w ankiecie.
Rozmowa z lekarzem
Następnym krokiem będzie rozmowa z lekarzem prowadzącym. Na wizycie osobistej, w ramach bezpłatnej konsultacji, lekarz specjalista z obszaru psychiatrii oceni Twój stan zdrowia, przeprowadzi rozszerzony wywiad medyczny dotyczący Twojej choroby oraz omówi bieżące wyniki.
Decyzja
Zanim zdecydujesz się na bezpłatne leczenie w ramach programu klinicznego, lekarz prowadzący konsultację skrupulatnie i dokładnie przedstawi Ci szczegóły badania.
What is Zaburzenia osobowości typu borderline
Zaburzenia osobowości typu borderline – określa jeden z typów zaburzeń osobowości. Klasyfikuje się je jako rodzaj zaburzeń psychicznych przejawiający się utrwalonymi, nieprawidłowymi wzorcami zachowań; przeżywania i reagowania, które istotnie zakłócają psychologiczne przystosowanie i pogarszają funkcjonowanie społeczne, zawodowe, relacje z otoczeniem, związki emocjonalne, jednocześnie powodując subiektywne odczuwanie cierpienia i złego samopoczucia.
Check what tests we are currently conducting in our facility.
if you are interested participation in a clinical trial - submit your form to recruiting department