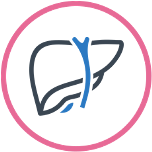 Clinical trials Non-alcoholic fatty liver and fibrosis
It is important to remember that every drug available in pharmacies has been evaluated in clinical trials.
Zgłoszenie
Rozpocznij swoje zgłoszenie wysyłając do nas formularz zgłoszeniowy, który znajduje się poniżej. Skontaktujemy się z Tobą i wspólnie omówimy informacje udzielone w formularzu.
Rozmowa z lekarzem
Następnym krokiem będzie rozmowa z lekarzem prowadzącym. Na wizycie osobistej, w ramach bezpłatnej konsultacji, lekarz specjalista oceni Twój stan zdrowia, przeprowadzi rozszerzony wywiad medyczny dotyczący Twojej choroby oraz omówi bieżące wyniki.
Decyzja
Zanim zdecydujesz się na bezpłatne leczenie w ramach programu klinicznego, lekarz prowadzący konsultację skrupulatnie i dokładnie przedstawi Ci szczegóły badania.
What is niealkoholowe stłuszczenie i zwłóknienie wątroby
Do niedawna stłuszczeniowa choroba wątroby kojarzona była jedynie z osobami uzależnionymi od alkoholu lub nadużywającymi mocnych trunków. Rozwój medycyny i nowe metody diagnostyczne pozwoliły odkryć, że na stłuszczenie wątroby narażone są również osoby, które nie spożywają alkoholu. Wpływ na zdrowie wątroby ma styl życia – nadwaga i otyłość mogą przyczyniać się do rozwoju stłuszczenia wątroby, podobnie brak aktywności fizycznej oraz przyjmowanie niektórych leków (m.in. leki uspokajające, leki przeciwbólowe oraz leki hormonalne).
Check what tests we are currently conducting in our facility.
if you are interested participation in a clinical trial - submit your form to recruiting department