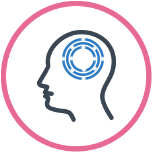 Clinical trials Choroba Afektywna Dwubiegunowa
It is important to remember that every drug available in pharmacies has been evaluated in clinical trials.
Zgłoszenie
Rozpocznij swoje zgłoszenie wysyłając do nas formularz zgłoszeniowy, który znajduje się poniżej. Skontaktujemy się z Tobą i wspólnie omówimy informacje udzielone w formularzu.
Rozmowa z lekarzem
Następnym krokiem będzie rozmowa z lekarzem prowadzącym. Na wizycie osobistej, w ramach bezpłatnej konsultacji, lekarz specjalista z obszaru psychiatrii oceni Twój stan zdrowia, przeprowadzi rozszerzony wywiad medyczny dotyczący Twojej choroby oraz omówi bieżące wyniki.
Decyzja
Zanim zdecydujesz się na bezpłatne leczenie w ramach programu klinicznego, lekarz prowadzący konsultację skrupulatnie i dokładnie przedstawi Ci szczegóły badania.
Bipolar disorder, jest zaburzeniem nastroju, w którym osoby chore doświadczają okresu podwyższonego nastroju – jest to tzw. epizod maniakalny – i okresu obniżonego nastroju – wówczas jest to epizod depresyjny. Objawy choroby występują często w okresie dojrzewania, w większość przypadków pacjent miał pierwsze epizody przed ukończeniem 21 roku życia. Przebieg choroby ma charakter nawracający. W trakcie diagnozy należy zwrócić uwagę na objawy takie jak; nadmierna radość, rozpierająca energia, ciągła gonitwa myśli. Takie objawy mogą występować przy epizodzie maniakalnym. W drugim okresie choroby zauważalne są u pacjenta, bardzo niski nastrój, brak zainteresowania i odczuwania przyjemności z większości wykonywanych czynności, smutek, pustka.
Osoby, które podejrzewają u siebie, bądź bliskich osób, objawy choroby powinny zasięgnąć opinii lekarza specjalisty w dziedzinie psychiatrii.
Check what tests we are currently conducting in our facility.
if you are interested participation in a clinical trial - submit your form to recruiting department