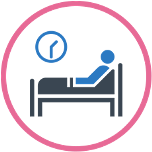 Clinical trials Zaburzenia snu
It is important to remember that every drug available in pharmacies has been evaluated in clinical trials.
Zgłoszenie
Rozpocznij swoje zgłoszenie wysyłając do nas uzupełnioną ankietę z pytaniami, która znajduje się poniżej. Skontaktujemy się z Tobą i wspólnie omówimy informacje udzielone w ankiecie.
Rozmowa z lekarzem
Następnym krokiem będzie rozmowa z lekarzem prowadzącym. Na wizycie osobistej, w ramach bezpłatnej konsultacji, lekarz specjalista z obszaru psychiatrii oceni Twój stan zdrowia, przeprowadzi rozszerzony wywiad medyczny dotyczący Twojej choroby oraz omówi bieżące wyniki.
Decyzja
Zanim zdecydujesz się na bezpłatne leczenie w ramach programu klinicznego, lekarz prowadzący konsultację skrupulatnie i dokładnie przedstawi Ci szczegóły badania.
Zaburzenia snu istotnie pogarszają codzienne funkcjonowanie. Występują u bardzo wielu osób. Bezsenność jest jednym z charakterystycznych i częstych objawów w chorobie depresji. Sen ma ogromny wpływ na nasz stan zdrowia, czy samopoczucie. Odpowiada za regulację różnych procesów w naszym organizmie, dlatego utrzymująca się bezsenność wpływa na zwiększenie ryzyka występowania depresji.
Pomimo to ciągle nie istnieje skuteczne leczenie bezsenności. Nieustannie poszukiwane są nowe leki. Jeśli cierpisz na bezsenność zgłoś się do nas. 
Check what tests we are currently conducting in our facility.
if you are interested participation in a clinical trial - submit your form to recruiting department