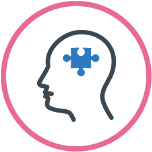 Clinical trials schizophrenia
It is important to remember that every drug available in pharmacies has been evaluated in clinical trials.
Zgłoszenie
Rozpocznij swoje zgłoszenie wysyłając do nas formularz zgłoszeniowy, który znajduje się poniżej. Skontaktujemy się z Tobą i wspólnie omówimy informacje udzielone w formularzu.
Rozmowa z lekarzem
Następnym krokiem będzie rozmowa z lekarzem prowadzącym. Na wizycie osobistej, w ramach bezpłatnej konsultacji, lekarz specjalista z obszaru psychiatrii oceni Twój stan zdrowia, przeprowadzi rozszerzony wywiad medyczny dotyczący Twojej choroby oraz omówi bieżące wyniki.
Decyzja
Zanim zdecydujesz się na bezpłatne leczenie w ramach programu klinicznego, lekarz prowadzący konsultację skrupulatnie i dokładnie przedstawi Ci szczegóły badania.
schizophrenia to choroba przewlekła, która może uaktywnić się w każdym wieku, najbardziej narażoną grupą są jednak osoby młode, przed 30 rokiem życia.
Cechuje ją wiele objawów, które u każdego pacjenta mogą rozwijać się różnie i występować z różnym nasileniem, przez co trudno jest wykryć chorobę we wczesnym jej stadium.
Do objawów choroby możemy zaliczyć: zaburzenia emocjonalne, halucynacje, urojenia, upośledzoną zdolność jasnego myślenia. Schizofrenia w znaczący sposób zaburza funkcjonowanie chorych w społeczeństwie.
Należy również zwrócić uwagę, że schizofrenia jest obciążeniem także dla najbliższego otoczenia osoby dotkniętej chorobą.
Kluczową rolę w terapii osób ze schizofrenią stanowi regularne leczenie.
Check what tests we are currently conducting in our facility.
if you are interested participation in a clinical trial - submit your form to recruiting department