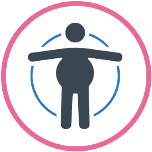 It is important to remember that every drug available in pharmacies has been evaluated in clinical trials.
Zgłoszenie
Rozpocznij swoje zgłoszenie wysyłając do nas formularz zgłoszeniowy, który znajduje się poniżej. Skontaktujemy się z Tobą i wspólnie omówimy informacje udzielone w formularzu.
Rozmowa z lekarzem
Następnym krokiem będzie rozmowa z lekarzem prowadzącym. Na wizycie osobistej, w ramach bezpłatnej konsultacji, lekarz specjalista oceni Twój stan zdrowia, przeprowadzi rozszerzony wywiad medyczny dotyczący Twojej choroby oraz omówi bieżące wyniki.
Decyzja
Zanim zdecydujesz się na bezpłatne leczenie w ramach programu klinicznego, lekarz prowadzący konsultację skrupulatnie i dokładnie przedstawi Ci szczegóły badania.
OBESITY przewlekła choroba o genetyczno-środowiskowym podłożu, manifestująca się nadmiernym przyrostem tkanki tłuszczowej, a tym samym, zwiększaniu masy ciała powyżej norm zdrowotnych.
Check what tests we are currently conducting in our facility.
if you are interested participation in a clinical trial - submit your form to recruiting department