It is important to remember that every drug available in pharmacies has been evaluated in clinical trials.
Atopic dermatitis in children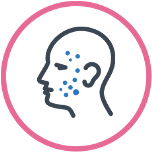 ATOPIC DERMATITIS, also called AD, or eczema, is a chronic inflammatory disease of the skin. Its characteristic feature is severe itching and recurring periods of exacerbation. However, proper care and knowledge of the causative agents of the disease can help soothe skin lesions. If you have atopic dermatitis, contact us! We will contact you when we can offer you participation in this study.
Check what tests we are currently conducting in our facility.
if you are interested participation in a clinical trial - submit your form to recruiting department