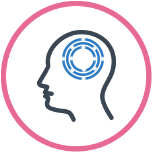 Clinical trials Depression
It is important to remember that every drug available in pharmacies has been evaluated in clinical trials.
Free consultation - Dni otwarte
Chcesz skonsultować swój stan zdrowia oraz bezpłatnie zasięgnąć opinii lekarza specjalisty?
W ośrodku Centrum Badań Klinicznych PI-House lekarze specjaliści z dziedziny psychiatrii prowadzą bezpłatne konsultację dla pacjentów chorujących na depresję zainteresowanych nowymi programami terapeutycznymi.
Zgłoszenie
Rozpocznij swoje zgłoszenie wysyłając do nas uzupełnioną ankietę z pytaniami, która znajduje się poniżej. Skontaktujemy się z Tobą i wspólnie omówimy informacje udzielone w ankiecie.
Rozmowa z lekarzem
Następnym krokiem będzie rozmowa z lekarzem prowadzącym. Na wizycie osobistej, w ramach bezpłatnej konsultacji, lekarz specjalista z obszaru psychiatrii oceni Twój stan zdrowia, przeprowadzi rozszerzony wywiad medyczny dotyczący Twojej choroby oraz omówi bieżące wyniki.
Decyzja
Zanim zdecydujesz się na bezpłatne leczenie w ramach programu klinicznego, lekarz prowadzący konsultację skrupulatnie i dokładnie przedstawi Ci szczegóły badania.
Depression jest bardzo często występującym zaburzeniem psychicznym, polega na obniżeniu nastroju pacjenta co poważnie zakłóca codzienne funkcjonowanie. Osoba depresyjna odczuwa takie emocje jak smutek, utrata przyjemności, negatywne spojrzenie na swoje życie i otaczający świat. Istnieje wiele czynników, które przyczyniają się do występowania depresji, m.in.; sytuacje i wydarzenia życiowe, zachowania, obecność poważnej, przewlekłej choroby i wiele innych. Wczesna diagnoza i leczenie zaburzeń depresyjnych mają ogromne znaczenie. Jeśli zauważasz pogarszający się nastrój u siebie lub u kogoś z bliskich osób, warto zasięgnąć porady lekarza specjalisty w dziedzinie psychiatrii.
Check what tests we are currently conducting in our facility.
if you are interested participation in a clinical trial - submit your form to recruiting department